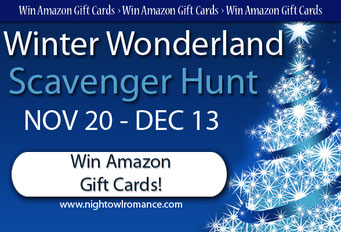 We've got a winter treat for you. We're one of the sponsors of the Night Owl Reviews Winter Wonderland Scavenger Hunt.
During this event We're going to help you find some great new books. Make sure to check my featured title out along the way.
The grand prize is a $100 Amazon Gift Card.
Enter Now at: https://www.nightowlreviews.com/v5/Blog/Articles/Winter-Wonderland-2017
Event Dates: Nov 20 - Dec 13