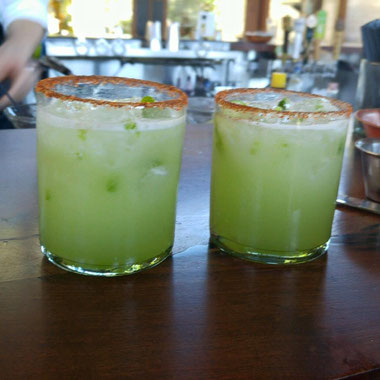 This one is for our friend, Annie. Enjoy! 🍹🍹🍹As always drink responsibly and never drink and drive!

Spicy Cucumber Margarita

4 ounces tequila
2 ounces fresh lime juice
1 ounce fresh orange juice
1 Tablespoon agave (use more/less to taste)
1 cucumber, sliced into thick coins
1 small jalapeno, thinly sliced
Add tequila, lime juice, agave, orange juice, and cucumber to a blender. Pulse for 1 minute, or until the mixture is smooth. Strain out the liquid into a cocktail shaker. Add the jalapeno slices, and muddle until the margarita has your desired level of heat. (Note that the longer the jalapenos sit in the mixture, the more they will release their flavor, so heads up!) Add a handful of ice, and shake the mixture vigorously for a few seconds so that it is chilled. Then immediately strain it into serving glasses that have been rimmed with salt (see below), filled with ice, and topped with optional garnishes.