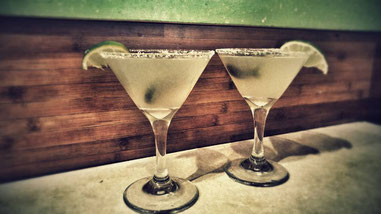 This week's cocktail serves 12 because believe us when we say, you won't want just one! Kinda like Lays potato chips😊❤
#trimandjulka #drinkporn #tequila #tipsybartender #cucumber #jalapeno #cocktail

Spicy Cucumber Delight:
Bring 1/3 cup sugar and 1/3 cup water to a boil in a saucepan, stirring to dissolve sugar. Let simple syrup cool.
Combine simple syrup, 3 cups tequila blanco, 1 1/4 cups fresh lemon juice, 1 1/4 cups fresh lime juice, 1/2 cup triple sec, four cucumber slices, and 1 jalapeño, halved lengthwise, in a pitcher. Chill for at least 1 hour, longer if you want it spicier; remove cucumber and jalapeño. Serve over ice.