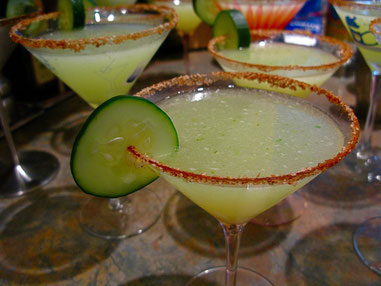 We had these last week and had to share the yummy goodness! Enjoy!!

Spicy Cucumber Martini
1/2 cup tequila, or more to taste
1/2 cup fresh lime juice
1/4 cup orange liqueur
1/4 cup simple syrup
1 jalapeno pepper, halved and seeded
4 thin slices cucumber, or more to taste
4 wedges lime
2 tablespoons kosher salt, or as needed
ice, as needed
4 slices cucumber

Directions
Stir tequila, lime juice, orange liqueur, and simple syrup together in a pitcher with a lid; add jalapeno pepper and thin cucumber slices. Refrigerate at least 1 hour.
Run a wedge of lime along the rim of each of four pint glasses. Rim glass with Cayenne pepper.