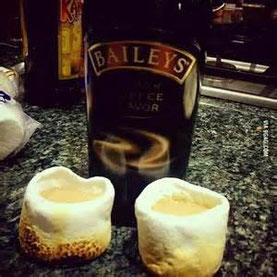 On this cold, rainy day this will warm us from head to toe!

Toasted Marshmallow Shots:

Regular sized marshmallows
Any liquor, we prefer Baileys. You could use hot chocolate for the kids.

Use a fork to toast the marshmallows on the sides and bottom, leaving the top uncooked. Marshmallow will automatically implode when it cools completely. Once cooled pour in your liquor and enjoy!! Drink fast or you will have a mess on your hands.