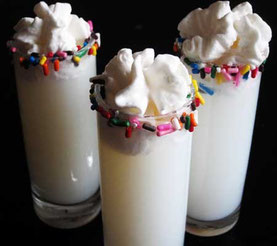 Somebody turns 50 today...Happy birthday, Damon!   

Birthday Cake Shot:

1 ounce cake-flavored vodka
1 teaspoon dry white cake mix
1/2 ounce chocolate liqueur
1/2 ounce half & half
whipped cream
sprinkles

Shake all ingredients in a martini shaker with ice (cake mix will dissolve).  Top with whipped cream and sprinkles.